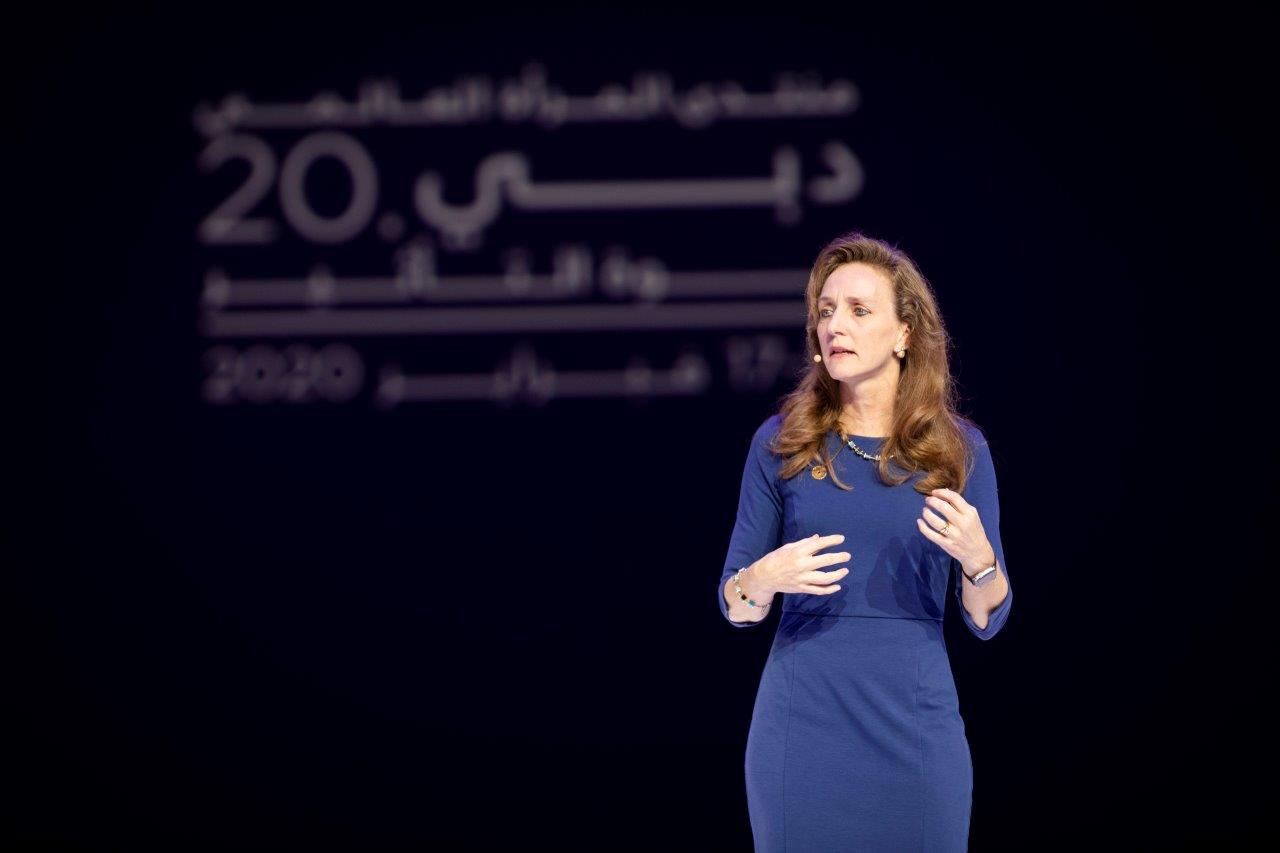 President, Global Public Affairs, UPS, Laura Lane participates in 'Game-Changer' session at GWFD 2020
Laura Lane: "Together we can accomplish anything – because in reality, the future is female!"
Dubai, UAE, 17 February 2020: The second day of Global Women's Forum Dubai 2020 witnessed another inspiring 'Game-Changer' session led by President of Global Public Affairs at UPS, Laura Lane. During her session, she revealed that the secret to becoming a powerful agent of change is finding a bold opportunity: "The world can be a more peaceful and prosperous place if everyone has the opportunity to engage in economic growth, bring their authentic self and their talent to the world."
Laura Lane opened the session by talking about her experience in Rwanda saying: "The most game-changing moment of my life was when I was in Rwanda. I saw an opportunity and I took it, I wanted to become that warrior for change. Rwanda is an inspiring story of hope."
Lane emphasised the positive impact of having women in control. "From genocide in Rwanda to what arose is a thriving country based on a lot of economic empowerment of women. Women have helped rebuild Rwanda and have set the tone for how the country should be today – rising literacy, communities that are strong, justice has been set but compassionately, as well as growth and opportunities invested back into the country's communities."
She talked about the importance of giving women a legal foundation in order to empower them. "I was able to succeed in my career because of the legal frameworks that support women. When laws changed, opportunities were created. We need to champion reforming laws." She added that building partnerships, more he-for-she, advocacy, PPP partnerships and access to financing are also pivotal to women's success.
When talking about her experience at UPS, Laura Lane said: "Our CEO recognised that it is smart to invest in women-owned businesses. It wasn't just the smart thing to do, it was good business. At UPS, we want to expand opportunities for everyone; we are all about teaching them tools of the trade, helping them understand custom processes and how to package their products."
Lane also placed particular emphasis on the importance of having the right support. "I have learnt tremendous lessons on what it takes for women to succeed because I have seen it in my own career. Doors were automatically opened, I had access because some people
believed in me, and I want to be that person who instils that confidence in women everywhere."
She closed the session by stating:" Together we can accomplish anything – because in reality the future is female!"
The 'Game-Changer' sessions, introduced for the first time at Global Women's Forum Dubai 2020, showcase inspiring personal stories from women who have made great strides across various industries, providing insight into their journeys to success. The sessions highlight pioneering women's diverse experiences – including the lessons learnt and obstacles overcome – as they delve into topics ranging across philanthropy, international relations, male-dominated industries, business, and more.
Global Women's Forum Dubai 2020 was organised by Dubai Women Establishment, which is led by Her Highness Sheikha Manal bint Mohammed bin Rashid Al Maktoum, President of the UAE Gender Balance Council and wife of HH Sheikh Mansour bin Zayed Al Nahyan, UAE Deputy Prime Minister and Minister of Presidential Affairs.
Building on its theme, 'The Power of Influence', Global Women's Forum Dubai 2020 discussed how effective policies and partnerships in four key areas – Government, Economy, Society, and the Future – can further women's positive impact for a better future.